Schaff
---
John C. SCHAFF was born 29 May 1857 at Hennersdorf, Schlesien (Silesia), Germany. John made his way to the United States and according to family lore he was a stowaway on the ship that brought him to Pensacola Florida (August 1873). John worked his way westward until 1880 when he enlisted in the Army (4th Cavalry) at St. Louis, Missouri. John's occupation before joining the Army is listed in his military papers as Moulder. One of the various definitions of Moulder "a person who molded clay Bricks". During military maneuvers, John made the acquaintance of Catherine (Catharina) STEICHEN who was employed at the Joe May ranch east of Sturgis, South Dakota. Catherine was born 4 Apr 1870 in Rollingen, Remich, Luxembourg, daughter of Michel Steichen and Katharina Steichen. Catherine and her sister Elisabeth "Elise" Steichen arrived Rapid City, SD. in 1881. The marriage index for Saint Patrick's Catholic church in Lead, South Dakota has John's name as John Joseph Schaff, his age as 33, occupation as Soldier, and religion as Catholic. John and Catherine were married in Sturgis, South Dakota (14 Nov 1889) and resided at Fort Meade, South Dakota. Their son John Joseph was born at Fort Meade in 1890. The Schaffs lived there until after the birth of their daughter Catherine Mary in 1892. Following John military discharge the couple took up a homestead several miles southeast of Volunteer, South Dakota, along the Belle Fourche river. On this homestead site three more children were born, Amelia born 1895, Elizabeth born 1898, and Joseph born 1901. At the turn of the century the Schaffs moved to Bear Butte Valley. While making their home on this ranch the couple was blessed with two more children, Albert born 1903 and Margaret born 1907. The Schaff's lived in Bear Butte Valley until 1920 when they moved to Sturgis and their son John J. moved onto the ranch. John C. Schaff died in Sturgis, SD. in 1929.

Joseph SCHAFF and Anna Marie SCH0TDEL , are listed in the Lead, South Dakota marriage index for St. Patrick's Catholic Church (1879-1908) as the parents of John C. Schaff who married Katherine Steichen in 1889 at Sturgis, South Dakota. The 1929 Meade County, South Dakota death record for John C. Schaff list his parents as Jacob Schaff and Mary SCHOELSCHEL. I've have a record (internet listing) for Joseph Schaff of Hennersdorf (1896), that list his occupation as Bricklayer and his wife as Marie SCHÖTSCHEL. This same internet list has a Marie Schaff from Hennersdorf born 1870 who married Carl JEITNER at Leobschutz in 1896. Marie listed as being the daughter of Joseph Schaff and a Marie Schötschel of Hennersdorf. John C. Schaff Newspaper Obit states that he had 2 sisters and 1 brother still in Germany (present day Poland).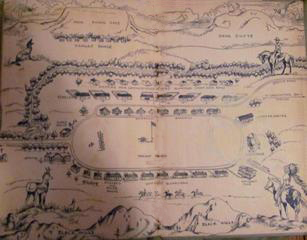 Fort Meade, South Dakota

NEWSPAPER OBIT: Sturigs Weekly Record dated 29 Aug 1929. Sturgis Loses Another Respected Citizen: Funeral services attended by an unusually large number of sorrowing friends, were held for the late John C. Schaff Sr. at St. Martin's Church, yesterday at 10 O'clock E.M. Rev. Father Columban, his friend and pastor for over a quarter of a century, sang the requiem High Mass and preached the sermon. Numberous and beautiful were the floral pieces and bouquets. Burial was in the Catholic cemetery. The pallbearers were chosen from the Holy Name Society of which the deceased was a member and were John Egger, Jas Lodge, Leo Keffeler, Frank Sloanb, Frank Melaney and Michael Byrne a firing squad from the Fourth U.S. Cavalry was present and taps were sounded by a trumpeter. Born in Hendersdorf, Schlesean, Germany, May 29, 1857, he came to this country while a young man and enlisted in the U.S. Army, at St. Louis in 1880, and was discharged at Fort Meade in 1892. He served in the Indian war of 1890-1891. While in the Army he served in Texas and New Mexico. he was a Tailor by trade, which he learned while in the Army. On November 14, 1889, he was married to Miss Katherine Steichen at Sturgis, by rev. Father Rosen. to this union were born seven children. He filed on a ranch in Bear Butte Valley in 1903, where the family resided until 1919, when they purchased a home in Sturgis. About three years ago Mr. Schaff had a severe attack of flu from which he never fully recoverd, and during the past year has suffered a series of light strokes, which have kept him confined to his bed and chair, and during this time was ministered to with the greatest devotion by his wife. Last Friday he had a severe stroke, and on Sunday fternoon peacefully passed away. Those left to mourn are his wife and seven children; John Schaff Jr. of Sturgis, Mrs. Mary Hart of California, Mrs. Amelia Wetz and Mrs. Elizabeth Wetz of Vale, SD., Joseph Schaff of Sturgis, Albert Schaff of Chicago, IL., and Mrs. Margaret Reinartz of Sheboygan, Wis., also sixteen grandchildren; two sisters and one brother in Germany. All the children were present at the funeral except Mary and Albert. Much could be written in sincere praise of the life and caracter for the deceased, but after all, when you say a man has lived over forty years in the same community, and still numbers his friends by his acquaintances, you just about say it all.

I welcome you to inquire, correct, and submit data that can help in recording the family history.
Click Here to see 4 generations of Joseph SCHAFF descendants
1. Hennersdorf info "CLICK to VIEW"
2. Neisse info "CLICK to VIEW"
3. Hennersdorf #2 info "CLICK to VIEW"
4. Inquiry "Stefan Schaff" of Hennersdorf "CLICK to VIEW"

My Searchable Site
Main Page