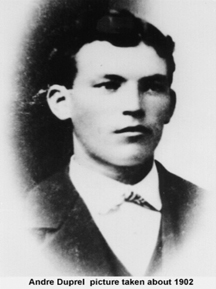 Log In | Register for a User Account
Welcome to my searchable Web Site.
You will have to register before you can search this Site. Registering only takes a few seconds. All that's required is a USERNAME, PASSWORD and E-MAIL ADDRESS. After registering you will receive an email message with the log-on information. By registering you will help me control who has access to this site. The information on this site is free and intended to help fellow researchers with gathering their family history. The information here is not intended for business nor individuals that sell family information / data.
My searchable data-base has a little over 34,000 individuals along with their notes and sources. To search for an individual or a family use the search-box on your right.
The Photos and Document sections (menu on your left) is also searchable. At present I've only uploaded Photos and Documents for DUPREL, HOLDREN, GILSON and related families. Both sections have a search-box. If you type in one of the three surnames it will display all the listings for that name. There's also some information and pictures in the Histories and Headstones sections.
I hope you find what you are looking for. If you find any information that's proven incorrect or you have additional information you would like to contribute
please
let me know.   
Contact Us
If you have any questions or comments about the information on this site, please contact us. We look forward to hearing from you.